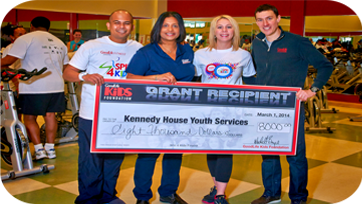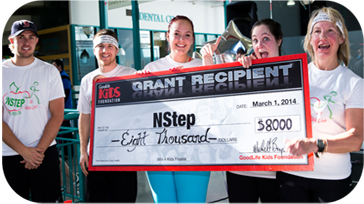 What Grant Program Participants are Saying
Sorrento, BC
North & South Shuswap Community Resource Association (NSSCRA)
Summer Swimming Lessons in the Lake
I had 2 of my children enrolled in swimming sessions offered through the NSSCRA this summer and fall and last summer too. This program is invaluable!! Living in a lakeside community, swimming lessons are a priority in our family and in our neighbourhood. It's critical that our kids have the necessary skills to be safe in and around the water. We want our kids to grow up safely enjoying the sporting/fitness activities the lake offers us.
Parent
Burlington, ON
Reach Out Centre for Kids (ROCK)
Healthy Active Living Project
We have a little girl who is 5 years old participating in our sport and recreation programs at the Warwick location. She attends our programs on a regular basis and is doing well. However, when her mom first signed her up, she didn't want anything to do with it! She was so afraid of being away from her mom that she would develop panic attacks. She was afraid she wouldn't fit in and would not be able to do all the activities like the other children. Her mom worked closely with us to ensure her daughter succeeded. At the first session this girl wouldn't even go near the other children and certainly wouldn't participate in the activities; then she progressed to talking to the staff and other kids; and now she runs right into our centre all by herself. Her confidence level has grown tremendously and her panic attacks have stopped. Without support from GoodLife Kids Foundation we wouldn't have been able to support this child and help her conquer her fears.
Program organizer
Mississauga, ON
ErinoakKids Centre for Treatment & Development
iCanBike Program
Thank you very much for providing us with such an opportunity to learn biking. Onur has been doing great … He picked up things well during the sessions and with a little practice learned something that will be with him for the rest of his life. Onur enjoyed the camp and riding. He is very proud of himself and his confidence level is quite high nowadays.
Parent
London, ON
Boys & Girls Club of London
Five Star Sports League Program
Overall, the program was a success as 30% of the children and youth increased their physical activity, 50% of participants built new friendships and 50% developed new social skills, built their confidence and improved sport-specific skills. Seventy percent of the children and youth surveyed at the end of the program reported they feel more active now after being part of the league program.
Program organizer
Saskatoon, SK
River Heights School
Engaging Students in Active Living Program
These activities are fabulous in terms of exposing the kids to activities they may not otherwise try. The diverse choice of activities helps build the kids' confidence, as they are often hesitant to try something new.
Parent