OUR WAY OF SAYING THANK YOU!
Every year, WWF-Canada offers a great assortment of fundraising rewards and prizes to climbers as our way of saying thank you. From event t-shirts, to gift cards, and WWF's adorable plush, there is something for everyone. Check back soon for details about prizes and incentives.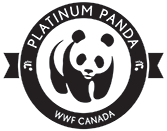 Platinum Panda is WWF's way of recognizing our top fundraisers at the CN Tower Climb for Nature! To thank our outstanding participants for their fundraising achievements, we offer a personalized and express registration valet, line by-pass to start the climb, and exclusive climb elevators on the way back down. You'll also receive a dedicated climb check-in room and uniquely panda-branded gift that will ensure this year's climb experience is like no other. Fundraise $1,000 or more in support of WWF's vital conservation work and let us give you the Platinum Panda experience.
---
TOP FUNDRAISING PRIZES
Scaling 1,776 Steps of the CN Tower is quite a feat, and being a Top Fundraiser is another stellar accomplishment!
In recognition of all the outstanding effort or Top Fundraisers put into the success of WWF's CN Tower Climb for Nature, we are pleased to award our top three individual fundraisers participating in Saturday's Public or Youth Climb and our top three individual fundraisers participating in Sunday's Team Challenge with the following prizes:
---
---
If eligible, you can also choose to give back all or part of your fundraising rewards and prizes so that more of the funds raised will support WWF-Canada.
In compliance with CRA guidelines, if you choose to receive a benefit for your self-donation, as in the case of fundraising rewards and prizes, you may not be eligible for a tax receipt. As such, fundraising rewards and prizes for fundraising amounts of $2,500 or more may not be awarded at the event. If they are not rewarded at the Climb they will be mailed to climbers shortly after.