Dear Hopice Friend,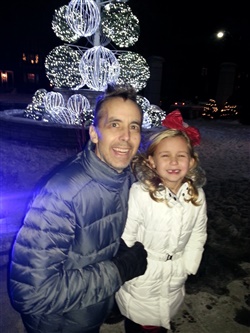 The holiday season is upon us and for many, it's a busy time of making plans, buying gifts and planning festive menus. It's also a time of reflection as we come together with family to remember our loved ones who are no longer with us. This Christmas will be the first year for my family to honour my husband, Paul Wyllie, and we invite you to join us in remembering your loved ones by supporting the Celebrate a Life: Memory Star Campaign. You'll find your own Memory Star included in this letter. When you send it back with a donation to St. Joseph's Hospice, it will be displayed in the hospice home throughout the holidays and into the New Year, because our memories continue to shine, like the beautiful Memory Stars.
Our daughter, Kendell, Paul and I loved celebrating the holidays together. Like many families, we formed annual traditions enjoying a variety of our favourite holidays in unique and memorable ways. We would lace up our running shoes to take part in the Canada Day Races and coordinate costumes for Halloween. Thanksgiving revolved around Paul's love of football, and Christmas held a special place in our hearts when we would travel to Paul's brother's house for a traditional holiday meal along with a short break to Toronto for 'Christmas in the City', enjoying hot chocolate and skating in Nathan Phillips Square. That was until Paul's passing at St. Joseph's Hospice in January 2017.
I was off on maternity leave when Paul noticed a pain in his side. We thought nothing of it at first as Paul lived a healthy lifestyle. He was an avid runner, never seriously ill and ate well. After seeing the doctor and many specialists, Paul was diagnosed with a rare form of liver cancer at age 37.
We were recently married, had bought a house and our daughter, Kendell, had just been born. Paul was a dedicated business owner and we were ready to settle into our future as a family. Then we received the life-altering news. Paul was told he had three to six months to live and our family prepared for the worst.
But after six rounds of chemotherapy, his health improved, our family's hopes were high and Paul returned to work. We thought we had won the battle. Our family was a pillar of strength and the doctors were doing everything that they could. Even though there was a less than 1% success rate, one specialist agreed to operate during Christmas 2014 and successfully removed Paul's tumour.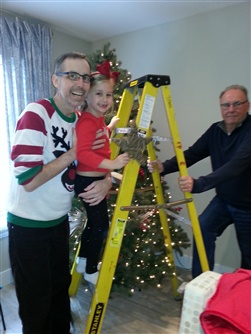 Unfortunately, the cancer returned and we knew there was nothing else that could be done. Throughout the fall of 2016, Paul's health continued to decline. I knew that Paul's wish was to live his last days within hospice care, so I took a deep breath and made the call.
I will never forget my first conversation with Wendy Boyle, Residential Director at St. Joseph's Hospice. She was compassionate and empathetic and gave me a list of what to do in preparation for Paul's move. This information was invaluable and at the end of the conversation, Wendy said "we're your family now, this is your home". With tears running down my face, I knew we had made the right choice. Seeing Paul at peace knowing that he was going to St. Joseph's Hospice made my worries and fears melt away.
We were amazed at how comfortable and natural it felt to make Hospice our home. Each nurse was more strong and remarkable than the last and our family was in awe of how giving they were. We felt like our family was their sole focus, though we knew that they had many other families to care for. After five years from the date of diagnosis, Paul passed peacefully surrounded by family. Through our unbelievable grief after losing a husband, father, son and brother, the staff at St. Joseph's Hospice guided our family through a beautiful Honour Guard in tribute to Paul. The last moments were filled with sadness but also love and comfort as I read the poem, God's Garden, a new family favourite that we have since inscribed on a bench in Springbank Park in memory of Paul.
We hope all families in our community facing the devastating weight of a terminal illness can find solace at St. Joseph's Hospice. This year, the gifts aren't beneath the Christmas tree – they're on it. Your donation to the Memory Star Campaign is necessary for helping raise the more than $1.3 million needed each year for Hospice to offer care and support to families, like mine, in our community.
Join my family in the Celebrate a Life: Memory Star Campaign as we fill St. Joseph's Hospice with hope and healing by making a donation in memory of the ones we love.
With gratitude,


Lori and Kendell Wyllie
Remembering our loving husband and father, Paul Wyllie
Click here to go back to the main page.