About This Campaign
The Sleep in Your Car event is in place to provide awareness and raise funds to provide homes and support for those in our community facing homelessness.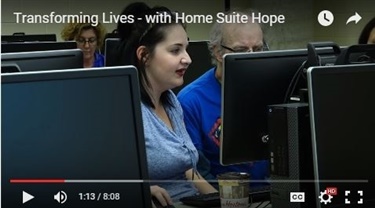 On Saturday, September 29th, 5 fabulous Home Suite Hope friends have volunteered to be locked in their cars for one night until we raise the money to get them out.
Be part of Sleep in Your Car by supporting these 'sleepers' and making a donation to help unlock their cars. Our goal is to raise $125,000 with this one night event amongst community members and local businesses.
Support one or more of our 5 volunteer sleepers today by simply clicking "DONATE".
Read more about Home Suite Hope. For more about our programs to help the homeless, visit www.homesuitehope.org.
Many thanks,

The Hope4Halton team @ Home Suite Hope
Nobody should have to sleep in their car.
---
Who We Are
Home Suite Hope has been serving individuals in need for over 10 years. Today we help single parent families facing homelessness to stabilize their lives and move forward to a life beyond poverty.
Families come to us for many reasons. Most from short-term emergency shelters. Yet the truth is it is virtually impossible for a family living in an emergency shelter to turn their lives around. While short term crisis centers are needed, our program fills a much needed gap in the emergency shelter continuum.
What we Do
We take a holistic and integrated approach to helping families put their lives on a better track, with a focus on the kind of long term housing that gives parents and children a stable background for our transformative, best-in-class, wrap around social services to make a difference. The single parents in our programs go on to employment or higher education, or both, creating new doors of opportunity for both parents and children. The need for our program is growing and we are poised for growth.
How We Do it
Instead of a hand out, we give a hand up. We work with parents who are motivated and determined to change their lives, for the sake of their children. The parents and children we serve face unimaginable struggles living on the fringes with a spirit of hope that life can get better with our help and their hard working efforts. We offer two programs: ReStart Halton, a 2-year housing and skills development program; and Homeward Bound Halton, a 4-year housing and college education program.
The work we do goes far beyond helping families scrape their way out of poverty. Our vision adopts a life cycle approach to breaking the cycle of poverty. We want to see parents and children thrive and achieve the kind of long lasting security that will benefit a new generation – through economically viable employment, higher education, children's leadership programs, and even home ownership.
Why we are Needed
HSH and the services we provide have never been needed more urgently as poverty and lack of affordable housing continues to plague our cities. We are a small but mighty powerful organization doing a pretty big job in our community. And yet we are the community's best known secret.
How you can Help
We want to build awareness about the transformative work that we are doing and are looking to leaders within the community to engage with us in providing inclusive opportunities for these families and in spreading the word about how people can help. Let others know that you are making a difference in ending the cycle of poverty in Halton.