Meet Kyle!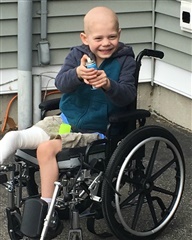 Meet Kyle! Kyle is 6 years old and loves soccer! Unfortunately, Kyle was diagnosed with bone cancer in December 2017. He is currently undergoing chemotherapy and had his leg amputated in March. He also had a new procedure called a rotationplasty, where his ankle and foot were rotated and reattached to his thigh, so that his ankle can function in place of his knee. A prosthetic leg will be attached over his foot, so that he can walk and play sports. He will need one prosthetic leg for general life and another for sports – and he will need to replace them as he grows.
Because he is our Ambassador, Kyle's family will receive a large grant to help with his expenses. The rest of the money raised at the M.e.l.t.-a-thon Against Cancer will go to CT cancer patients throughout the year.
Supporting the M.e.l.t.-a-thon Against Cancer is a great way to help Kyle and hundreds of other people bravely battling cancer.