Event Details
Date June 14 – 16, 2019
Location: Panorama Mountain Resort (2000 Panorama Drive, Invermere, BC)
Fundraising Minimum: $300
Registration Fee: $175
Rider Registration & Check-In: June 14 from 5:00 – 10:00 pm
Ride: June 15 - Starts at 8:00 am
Gala: June 15 - Starts at 6:00 pm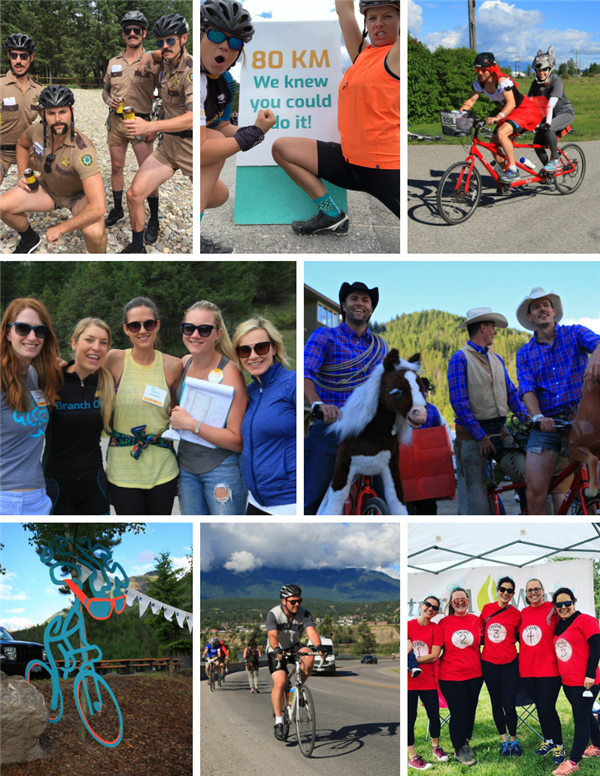 The Branch Out Bike Tour is our largest annual event, raising over 50% of Branch Out's total funds. It attracts 300 - 500 riders of all levels, over 60 volunteers, and more than 20 sponsors.
Everyone arrives and checks-in on Friday evening. The 1-day ride kicks off at 8:00 am on Saturday, June 15th. Riders choose between an 80, 100 or 160km road ride which starts at the top of the at Panorama Mountain Resort.
There's a celebratory BBQ at the Finish Line where everyone cheers on riders while enjoying a burger, beer or kombucha. Once the ride is complete, riders relax in their rooms and take advantage of the outdoor hot tubs before getting ready for the evening Gala. The Gala is a dinner, silent auction, and awards ceremony with a special presentation about the neuroscience supported by everyone's fundraising efforts. The event finishes with a super fun evening, live band and DJ! Breakfast is served on Sunday morning before everyone heads home.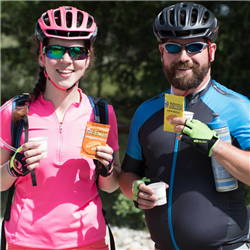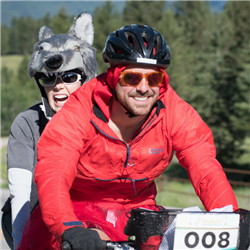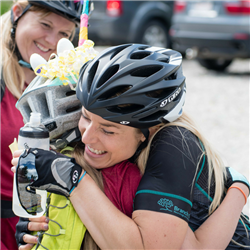 ---
Your Registration Includes
Breakfast, BBQ lunch, an evening gala ticket and rockin' party, then breakfast AGAIN on Sunday!
Lots of snacks and refreshments throughout the ride
Rider number license plate & timing chip
A participant swag bag full of goodies
Access to pools and hot tubs (with room booking)
Secure bicycle storage
Personalized fundraising page
Rider awards, door prizes, and stellar silent auction items
The RADDEST fundraising awards when you reach $750, $1,500 and $3,000+ raised!
---
Check-In
Most people leave after work on Friday to check-in at Panorama Mountain Resort between 5:00 pm -10:30 pm. This timing gives you a chance to register, settle in, catch up with old friends, and have a good night's sleep before the big day.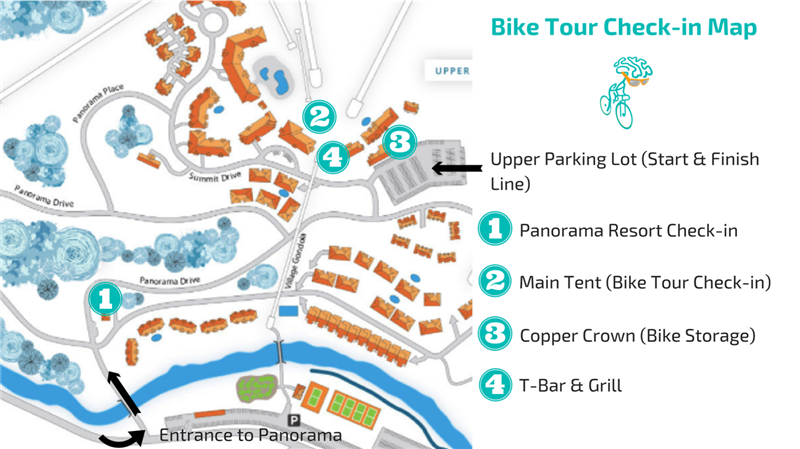 ---
Accommodation
Panorama Mountain Resort
You can book accommodation either by telephone or online. To book by phone, contact the Panorama Reservation Team at 1.800.663.2929 and let them know you're booking for the 2019 Branch Out Bike Tour.
Promo Code: Branchout19
The above code gives you the Branch Out Discount on all rooms booked at Panorama Mountain Resort.
How to Book Online:
Go to PanoramaResort.com and select + SHOP in the top right corner of the homepage.
Select PROMO CODES and type in your code.
Select FIND.
Enter your arrival and departure dates and the number of people staying in your room. You will be able to select how many rooms you would like shortly. Click CHECK AVAILABILITY.
The lowest priced accommodation will appear first, usually at the Pine Inn. To see all available accommodation options, click CHANGE. A number of available accommodation and room options will appear along with package prices for the entirety of your stay.
Your accommodation booking includes access to the Pine Inn gym and Panorama Springs hot pools facility. Book Now!
---
Route
The Bike Tour route begins from the Panorama Mountain Village Pine Hill Parking Lot. Below is the Map of the 80 & 100Km routes. Our ambitious 160Km riders loop around the lake twice.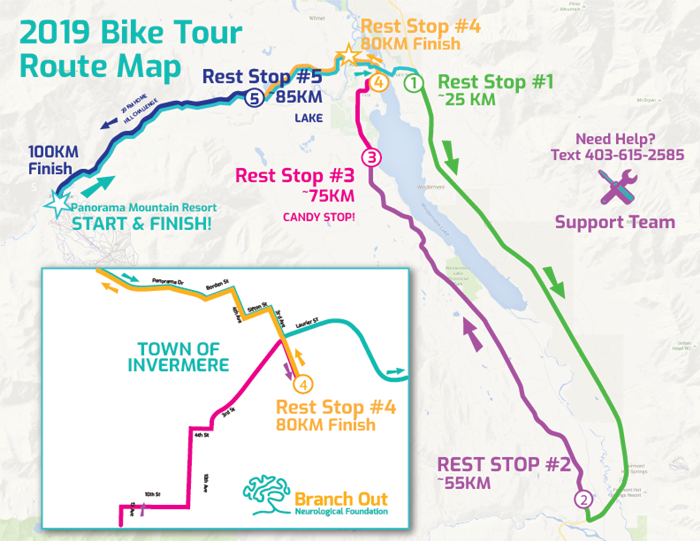 ---
Itinerary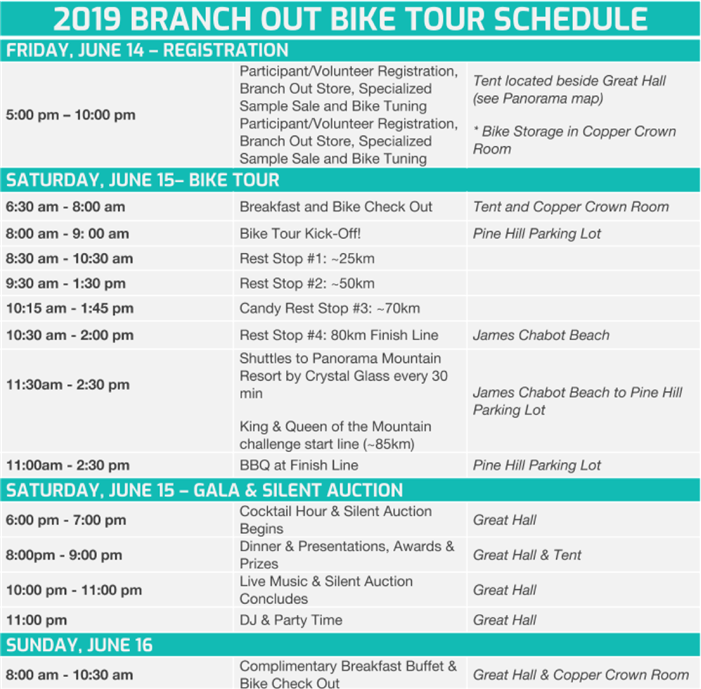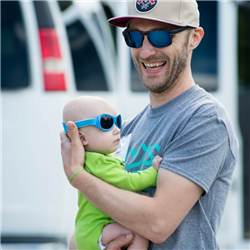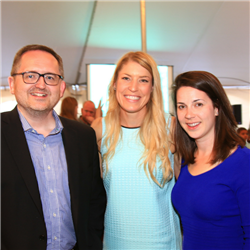 ---
What to Bring
For Your Bike
Tuned bike (adequately adjusted seat, tires are full, brakes and gears work well, etc.)
Helmet (mandatory!)
Spare bike tubes
Patch kit
Cycling gloves
Bike Tools (Allen wrenches, tire pump, tire levers, etc.)
Two water bottles (water stations located at each rest stop)
Need to rent a bike? Bike with NOMAD Mobile Gear Rentals and Branch Out receives a portion of your rental fee!
For Your Fashion
Cycling jersey, shorts, and socks (Specialized clothes and accessories will be on sale at registration)
Windbreaker and rain gear
Arm and leg warmers
Appropriate footwear
Swimsuit
*Don't forget the most outrageous outfits are entered to win great prizes!
For Yourself
First aid kit
Sunscreen
Anti-chaffing ointment (recommended)
Any medication needed (bring a minimum of two (2) days worth)
Additional snacks (breakfast, lunch, and dinner provided on ride day and Sunday morning)
Credit card or cash for silent auction items and raffle tickets
Your game face!