New York City-to-Philadelphia Greenway Ride: About the Route
We'll begin the ride in the New York City area, at Liberty State Park in Jersey City. Following the East Coast Greenway to Philadelphia, where we'll ride for nearly half the route on trails and paths separated from traffic. These greenway sections include paved trails such as the lovely Middlesex Greenway in Metuchen, N.J., as well as unpaved trails such as the D&R Canal Towpath.
The D&R's natural, crushed stone surface is more comfortable with wider tires; road bikes can handle the trail but the going will be a bit slower than on pavement.
On-road sections include a mix of suburban, urban, and commercial corridors. Cyclists will be supported by escorts in busier sections, police vehicles at major intersections, and SAG services.

Our overnight stop is Princeton, N.J., with camping and hotel options near the campus of Princeton University and the shops and restaurants along downtown's charming Nassau Street. We'll finish on day two along the Schuylkill River near downtown Philadelphia.
We'll ride roughly 75 miles the first day and 55 miles the second day.
Note the map below is an approximation of the route. Full route details and directions will be shared ahead of the ride.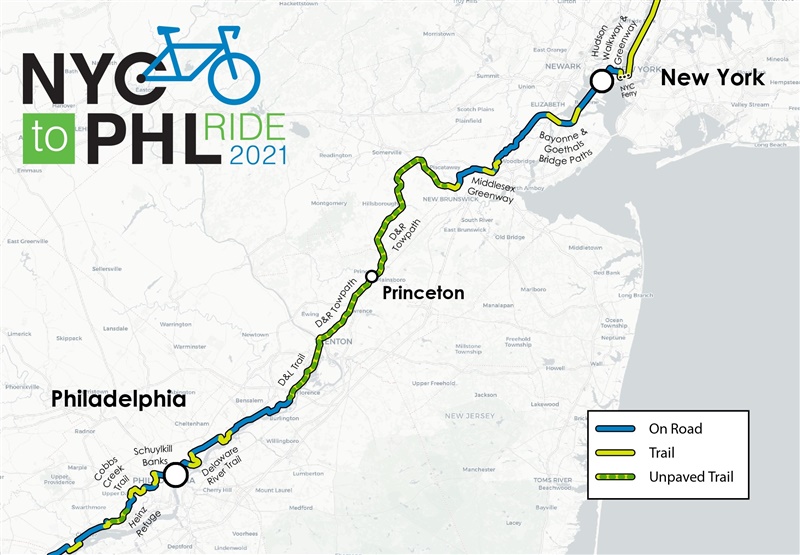 ---
FAQs • Fundraising Tools • Route • Transportation • Lodging • Volunteer • Contact Us • About Us