A STORY OF

HOPE
Ethiopia




Bonke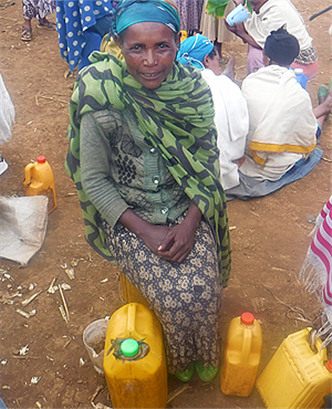 Amarech Dorche is a leader and an entrepreneur in her community, Bonke. Each day, Amarach wakes before the sun does, preparing to start her hours walk to collect water. By the time she reaches the pond, the heat of the sun is beating her back. After pooling water in her hands to drink and cool herself off, she will strap the 10L jug of water to her back and begin the hours walk home with her water for the day.
Amarech runs her own business, selling cow's milk at the market. Each day, after collecting water, she will visit the dairy farms in Bonke to purchase milk that she will bottle and sell each day at the market. She makes enough profit to survive, but her dream is to buy cows of her own and expand her business. Without easily accessible water, her cows will not be able to survive.
When water comes to Bonke, Amarech will thrive. She will be able to spend her time raising healthy cows who can produce enough milk to bottle and sell at the market.
Access to clean water will fundamentally change the trajectory of Amarech's life. Register today to change everything for the community of Bonke.