Our way of saying thank you!
Prizes for the Top Individual Fundraiser in the Public/Youth Challenge on April 25th
1st Place
Enjoy a 'Night for 2' stay at The Fairmont Royal York, with breakfast and dinner at EPIC Restaurant.
2nd Place
Enjoy a 'Night for 2' stay at The Fairmont Royal York, with dinner at EPIC Restaurant.
3rd Place
Enjoy a 'Night for 2' stay at the Fairmont Château Laurier in Ottawa, ON.
Public Climb Rewards
For us, everyone finishes the Climb as a winner! Each dollar you raise to support conservation work is critical for WWF, and much appreciated. You will be rewarded individually for all your hard work fundraising for us! New this year for our 25th Anniversary, WWF introduces Platinum Panda to recognize and reward our top fundraisers. Get a first-class climb experience all the way to the top.

Here is what you could walk home with, based on your individual fundraised amounts:

Note: Gift cards will be provided in the from of JUMP cards to all participants who fundraise $500 or more.
---
What is a JUMP gift card?
It's a gift card that provides you with the flexibility of choosing a gift card of your choice, from hundreds of retailers! JUMP gift cards never expire and can be exchanged through The Gift Card Boutique, based on the value of the original JUMP gift card.
---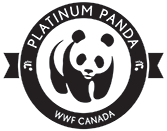 You deserve to be rewarded! Fundraise over $1,000 as an Individual, or an average of $1,000 per climber across your Team, and allow us to introduce you to the Platinum Panda experience!

New this year, to celebrate our 25th Anniversary Canada Life CN Tower climb and show our thanks, WWF-Canada is offering a first-class climb experience all the way to the top of the tower.

From a personalized and express registration valet, start of the line access to the CN Tower, to exclusive climb elevators on the way back down. A dedicated climb check-in room and uniquely panda-branded gift will ensure this year's climb experience is like no other.
---
All climbers who raise the minimum are automatically entered into the draw for a chance to win a GIANT Panda Plush!
The GIANT Panda Plush is 100cm tall
---
If eligible, you can also choose to give back all or part of your fundraising rewards and prizes so that more of the funds raised will support WWF-Canada.
Both your online and offline donations received by WWF on or before Friday April 24th at 9:00am, as well as any pledges you bring to the Climb will count towards your eligibility for fundraising rewards and prizes.
In compliance with CRA guidelines, if you choose to receive a benefit for your donation, as in the case of fundraising rewards and prizes, you may not be eligible for a tax receipt. As such, fundraising rewards and prizes for fundraising amounts of $2,500 or more may not be awarded at the event. If they are not rewarded at the Climb they will be mailed to climbers shortly after.