Event Information & FAQ
Run~Walk takes place on Saturday, June 9, 2018, 7:00am-1:00pm, rain or shine, at the Thoreau Outdoor Center in Concord, MA. The event includes awards ceremonies for top fundraisers and medalists. All participants are invited to stay for lunch, music and activities following the 5k.
Registration Fees

Early bird (register by 5/10/18)$35
Regular (register by 6/6/18)$40
Day of (register 6/7/18 or later)$45
Event Schedule
Registration - 5k Walk, Run & Kids' Fun Run7:00am-8:00am
Team and Individual Photos8:00am-12:00pm
Kids' Fun Run, (ages 5-12) 1 mile chip timed8:15am
Welcome and Instructions8:45am
5k Chip timed Run and Walk9:00am
Awards Ceremony10:00am
Lunch, Swimming & Activities10:00am-1:00pm
Light lunch included for participants. $10 for guests.
Activities include swimming, tie dye, volleyball,​inflatables, music, badminton and more!
Event Location
Run~Walk will be held at the Thoreau Outdoor Center located at 275 Forest Ridge Road, Concord.
​
NEW PARKING LOCATION FOR 2018:
​Parking is available at Valley Sports on Route 62. Buses will shuttle guests to registration and race start.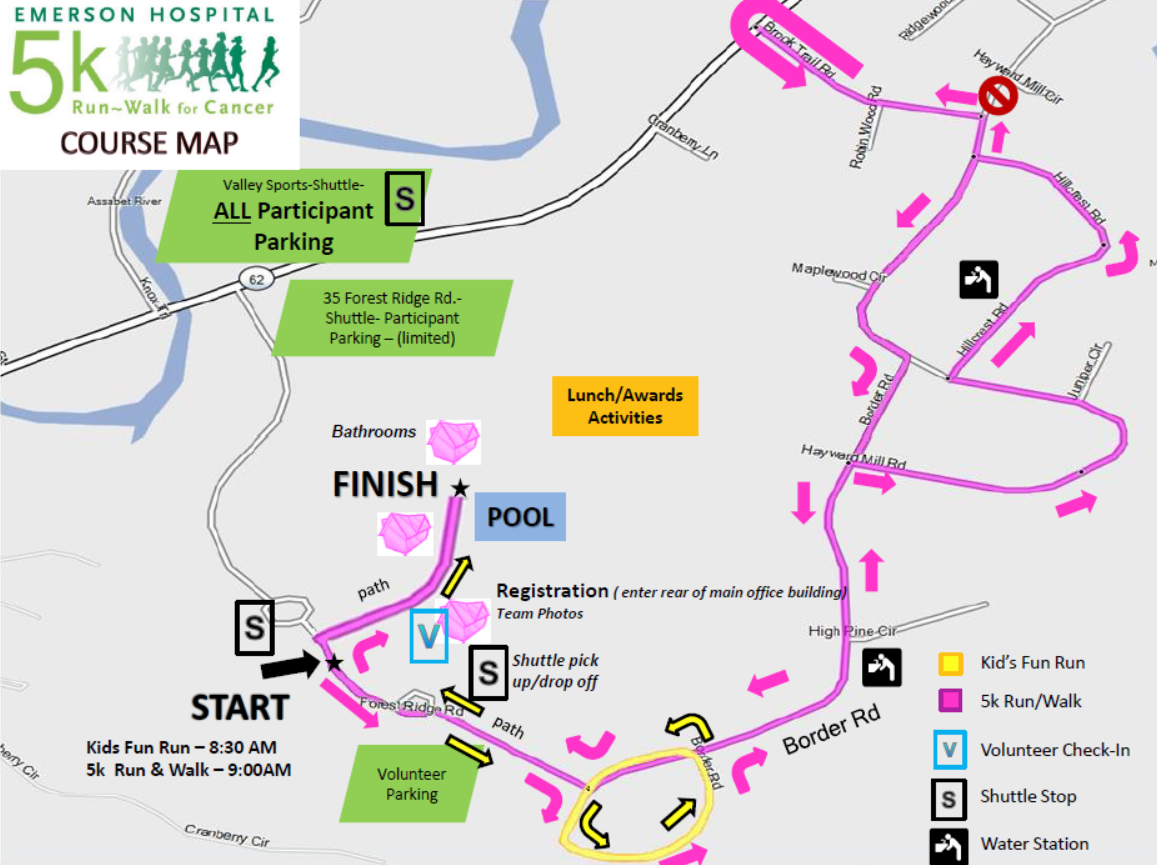 ​Click here for printable course map
Frequently Asked Questions
1. How much does registration cost?
Early-bird registration for the Run~Walk is $35 by 5/10/18. Regular registration is $40 through 6/6/18. Registration 6/7/18 or later is $45.
Kids Fun Run (ages 5-12) registration is $15.
All registrations include: event shirt and bag (as supplies allow), post race snacks, lunch, and participation in family activities.
To register now, click here.

2. I've registered for the 5k Run~Walk. Now what?
Encourage others to support your Run~Walk efforts! Visit the Resources section of our website for easy fundraising tips. Use your personal fundraising headquarters to send emails to potential donors, personalize your web page and more. Finally, invite your friends and family to walk or run with you!

3. Do I have to fundraise?
We don't require that you fundraise, but we encourage it. Money raised is important in helping patients undergoing cancer treatment at Emerson Hospital. Use the Resources page on this site and your personal fundraising headquarters to find great tips on how to make fundraising easy.
Did you know that raising only $10 allows you a personalized footprint on our Tribute Wall?

4. How do I collect donations?
The easiest way for donors to support you is by visiting your personal web page to donate online using a credit card. This can be accessed through our event site: emersonhospital.org/5k or via the link your provide your donors. Donations are also accepted by cash or check. Have them make checks payable to the Emerson Health Care Foundation and make sure that they note your name in the memo area.

5. What if I'm not able to mail in donations prior to the 5k Run~Walk?
No problem! Just bring the donations with you and turn them in at registration. Please put them in an envelope with your name and your team name (if applicable). It is also helpful for checks to have your name in the memo area and make sure that they are made out to Emerson Healthcare Foundation.

6. Can my company match donations that I collect?
Many companies will match charitable contributions made or collected by employees. Be sure to ask at your place of work. Also, remember to send any matching gift forms at the same time you turn in your donations.

7. Are kids of all ages welcome at the 5k Run~Walk?
Yes! This is a family event. Please bring your family, friends, and work colleagues. Event includes a 5k Run~Walk, a Kids Fun Run (1 mile race for ages 5-12), and an assortment of family activities.

8. What are other activities available for my family?
We have a Tot Trot for kids ages 5 and under. Tots must be accompanied by an adult. Also available are activities such as music, tie dye t-shirts, inflatable obstacle course, volleyball, badminton, access to the pool and more. If you plan to use the pool, please bring your bathing suit, a towel and sunscreen.

9. Are guests/non-participants welcome?
Yes! Guests are welcome to participate in family activities free of charge. To enjoy lunch, a fee of $10 is required per non-participant.

10. Can I bring my dog?
No. Pets are not allowed on the Thoreau Club grounds.

11. Will food be available?
Yes. Your registration fee includes post race snacks, lunch, and ice cream.

12. What happens if there is inclement weather on the day of the walk?
We'll be there rain or shine.

13. Can I bring a stroller?
Yes. This is a family event and strollers are welcome for both the run and the walk. For the run, participants with a stroller will be placed at the back of the race for safety.

14. What should I do if I have any questions that weren't answered here?
Contact us at 978-287-8765 or email runwalk@emersonhosp.org.