Press Inquiries
The YMCA of Simcoe/Muskoka provides a wide variety of programs and services across the communities of Simcoe, Muskoka and Parry Sound. Whether it is through health and fitness programs, swimming lessons, licensed child care, employment/literacy services, immigrant services, leadership training for the not-for-profit sector, outreach and counselling programs for youth or camps for children, youth and families, Y programs inspire people to reach their full potential.
This year marks the Y's 4th annual "Move to Give" event. On April 7, 2018, more than 1,300 people at 8 different locations will join together to raise funds through a wide variety of physical activities. In just one day, our goal is to raise over $100,000 in support of the Y's efforts to build healthy communities.
How does the Y contribute to a healthy community?
People with less money have higher rates of chronic disease. The Y provides financial assistance to over 15,000 people a year, making a healthy lifestyle accessible to all.
Drowning is the #2 leading cause of preventable death for children under 10 years old. Each year the Y provides swimming lessons to over 5,500 children and youth.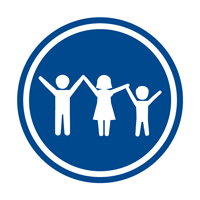 Early education influences how well a child transitions into adulthood. With nearly 80 centres, the Y is the largest provider of licensed child care in our community, serving over 4000 families.
Those with lower levels of education tend to have poorer health as adults. In partnership with local school boards, over 300 youth earn high school credits through Y programs each year.
Heart disease is the #1 cause of premature death in Canada. The Y partners with local healthcare providers to support cardiac rehabilitation programs in our health and fitness centres.
New Canadians often experience heightened levels of social isolation. The Y's Immigrant Services Program is a "home away from home" for 1,400 newcomers in our community.
People who are unemployed or have poor working conditions are at higher risk of stress, injury, high blood pressure and heart disease. The Y's employment programs connect over 5,000 people each year to meaningful employment.
1 in 3 youth want to speak to somebody about their mental health. Through the Y's Counselling and Outreach Services, we connect our community's most vulnerable youth with caring adult mentors.
My Y is strong ... but we can't do it alone. On April 7th please consider participating, fundraising or sponsoring a friend.
Let's do somethign massive.
Let's Move to Give.
About the YMCA of Simcoe/Muskoka
The YMCA of Simcoe/Muskoka is an Imagine Canada accredited charity serving Simcoe, Muskoka and Parry Sound. We are dedicated to the growth of all people in spirit, mind and body.
In the news
Media Inquiries
Louise Picot, Communications
YMCA of Simcoe/Muskoka
705-606-1549 ymca@louisepicot.com