FREQUENTLY ASKED QUESTIONS
JWW's 12

th

Annual Los Angeles Walk to End Genocide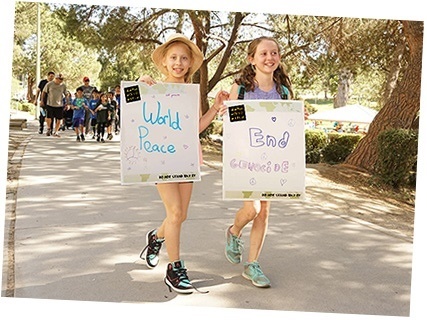 When is the 2018 Los Angeles Walk to End Genocide?
The Event takes place on Sunday, April 22, 2018. Registration/check-in opens at 9:00 a.m.
The Event program starts at 10:00 a.m. The Walk begins at 10:15 a.m.
(Times are subject to change).
How long is the Walk?
The Walk will be just under 2 miles. Check back for the Walk route closer to the event.
Where do I park on the day of the Walk?
Parking at Pan Pacific Park is ample. There is also street parking and private lots in the area. Additional parking information will be available closer to the Event.
What does it cost to register to Walk?
All Walkers must be registered. 2018 Walk Registration Fees include one commemorative Walk to End Genocide T-shirt.
Adults (ages 23+) $36.00
Students (ages 12-22) $28.00
Children (ages 5-11) $18.00
Toddler (4 and under) FREE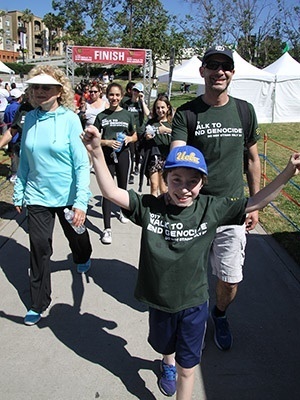 Do I have to raise money to participate?
Fundraising is strongly encouraged. Please remember that the funds you raise help JWW to raise awareness of ongoing atrocities in Myanmar, Sudan, South Sudan, Syria and in the Democratic Republic of the Congo (DRC) and to provide funds for relief projects and development in refugee camps and communities in conflict.

Registered Walkers who do not want to fundraise are encouraged to make a donation in addition to the registration fee in lieu of raising funds. Please see suggested donation amounts.
I registered but my registration fee does not show up in my fundraising thermometer - doesn't my registration fee count towards my fundraising?
Your registration fee DOES count towards your fundraising, however it will not show up immediately. Your thermometer will move once the registration is processed on the back end, so please allow 24-48 hours. Note that all donations you receive (including self-donations) WILL move the thermometer immediately. Please feel free to email us at walk@jww.org with any questions.
Do you have any fundraising tips?
Download our fundraising guide Five Steps to Effective Fundraising.
Can teens earn community service credit for participating in the Event?
YES! And you can double your community service credits by volunteering with JWW to help with the Walk. Go to the volunteer section of the website to sign up to volunteer.
If your school has a form that must be completed for you to get credit, you must bring it on the day of the Walk. Email walk@jww.org to learn more.
What if I can't make it to the Walk that day?
Will you be on vacation, out of town for work, attending church services, or otherwise unavailable on April 22 to attend the Walk? Not a problem - we've got you covered. Just register to join the JWW Walkers in Spirit Team and "walk" virtually from anywhere, even in your pajamas!
Here is how to sign up:
On the Register / Login page click "Create New Account" and then click "Join a Team." Enter JWW Walkers in Spirit in the search box.
Where will I meet my team?
Your team captain will be assigned a Team color in the days before the Event. Balloons in the designated color will mark the Team meeting place. We will announce a time for teams to gather for the Walk and give you plenty of time to enjoy the activities in the Global Village.
I'm not able to Walk but I'd like to be there. Is there something I can do?
Absolutely! Come for the music, activities and shopping in the Global Village before and after the Walk.

Volunteers are also needed for event support from set up to cheering on the Walkers. You can sign up to be a volunteer by clicking here or by sending an email to walk@jww.org telling us that you can volunteer and we will contact you.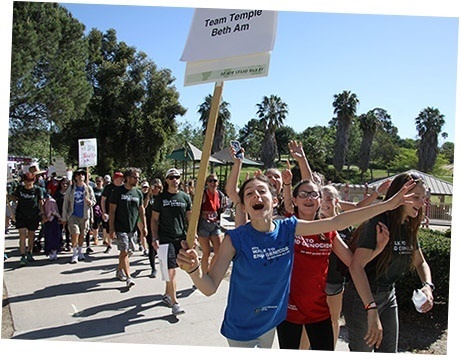 Where do I get my T-shirt?
All Walkers with paid registration can pick up their T-shirts at the T-shirt Tent at Check-in & Registration on the day of the event. Teams may also pick up their T-shirts during the three scheduled pre-Walk pick-up days at the JWW Encino office. Please call us at (818) 501-1836 to make pick-up arrangements so we will be ready for you!
Can I bring a stroller?
Yes, you can bring a stroller.
Can wheelchairs and walkers be used on the Walk route?
Yes, those using walkers or in wheelchairs can participate in the Walk.
Can I bring a bike? Roller blades? Scooter?
No, for your safety and the safety of all participants, bikes, scooters and roller blades are not permitted on the Walk route.
Can I bring a pet?
For your safety and the safety of all participants, pets are discouraged. This does not apply to Service dogs.
What if it rains?
The 2018 Los Angeles Walk to End Genocide will take place on April 22, 2018 rain or shine!