VOLUNTEER
We could use a helping hand! Or two!!
THANK YOU for becoming a Volunteer for the Walk to End Genocide!
Volunteers contribute their time, creativity and skills to make the Walk a successfull event! It is a great way to make a difference and to give back to an organization that you care about.
Volunteering is also an excellent way to get community service credit.
To sign up as a volunteer, please fill out this form.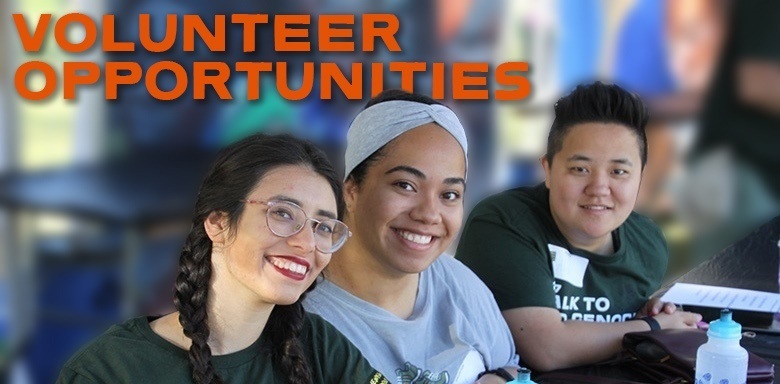 PUBLICITY CREW
SHIFT: TODAY THROUGH MARCH 31
Come to the JWW Office to pick up posters to distribute to your neighborhood businesses and fliers to give to friends and family. Tweet, Facebook, call and text about the Walk. This is a job for everyone!
WALK ROUTE MONITOR
SHIFT: SUNDAY, MARCH 31 just before and during the Walk [ADULTS ONLY]
This is one of the most important jobs of the day. You will stand at a crosswalk along the Walk route to make sure that people cross safely. Once your station has cleared you can join the Walk yourself!
SET UP CREW
SHIFT: SUNDAY, MARCH 31 FROM 8:00 A.M. – 9:30 A.M.
Come early and help create the magic of our Global Village. We will provide juice, coffee and bagels. You will provide the muscle or organizing or decorating labor.
REGISTRATION/CHECK-IN CREW
SHIFT: SUNDAY, MARCH 31 FROM 8:30 A.M. – 10:30 A.M.
This daring dozen will face the thousands of pre-registered and walk-in participants when they first arrive on Walk Day. We will train you on the procedures for welcoming those who have already signed up, registering those who did not do so before Walk Day and processing fundraising money brought to the Walk for submission. If you are very detailed, have nerves of steel and love working with people- this is the spot for you!
"GO TO" CREW
SHIFT: SUNDAY, MARCH 31 FROM 9 A.M. – 11 A.M. OR 11:00 A.M. – 1:00 P.M.
Help with sign decorating, water distribution, T-shirt surgery and other tasks as needed. You will be the general help crew who we can rely on to help wherever help is needed!
SALES CREW
SHIFT: SUNDAY, MARCH 31 FROM 9:00 A.M. – 10:00 A.M. (1 HOUR SHIFTS)
Whether it is merchandise or food, we need a dedicated Global Village sales force to help raise money the day of the Walk. A special perk is that you get to talk to lots of great people while you work!
T-SHIRT CREW
SHIFT: SUNDAY, MARCH 31 FROM 9:00 A.M. – 12:00 P.M.
These tremendous twelve volunteers will make sure that all Walkers have T-shirts in the proper size. You will help set up the T-shirt area distribute the shirts and box up the extras (if any are left!) This is where the "cotton meets the crowd". Calm and quick crew members will be standing their entire shift.
STRIKE CREW
SHIFT: SUNDAY, MARCH 31 FROM 1:00 P.M. – 4:00 P.M.
Pack up our tents, tables and displays after the Walk. Bring muscles and energy after a long day!
ALL VOLUNTEERS CAN TAKE PART IN THE WALK ITSELF. IF YOU DO NOT WANT TO WALK, CONSIDER TAKING A SPOT IN ONE OF OUR WALK AREAS FOR PEOPLE WHO REMAIN BEHIND.