Frequently Asked Questions
What is the terrain like?
Spectacularly scenic! The longer the route you choose, the hillier the terrain. Each of the route maps on our website (coming soon!) include the total elevation gain. Regardless of the route you plan to participate in, training is strongly encouraged. Remember that no matter with route you choose, it's a ride, not a race, so take the time to enjoy the scenery!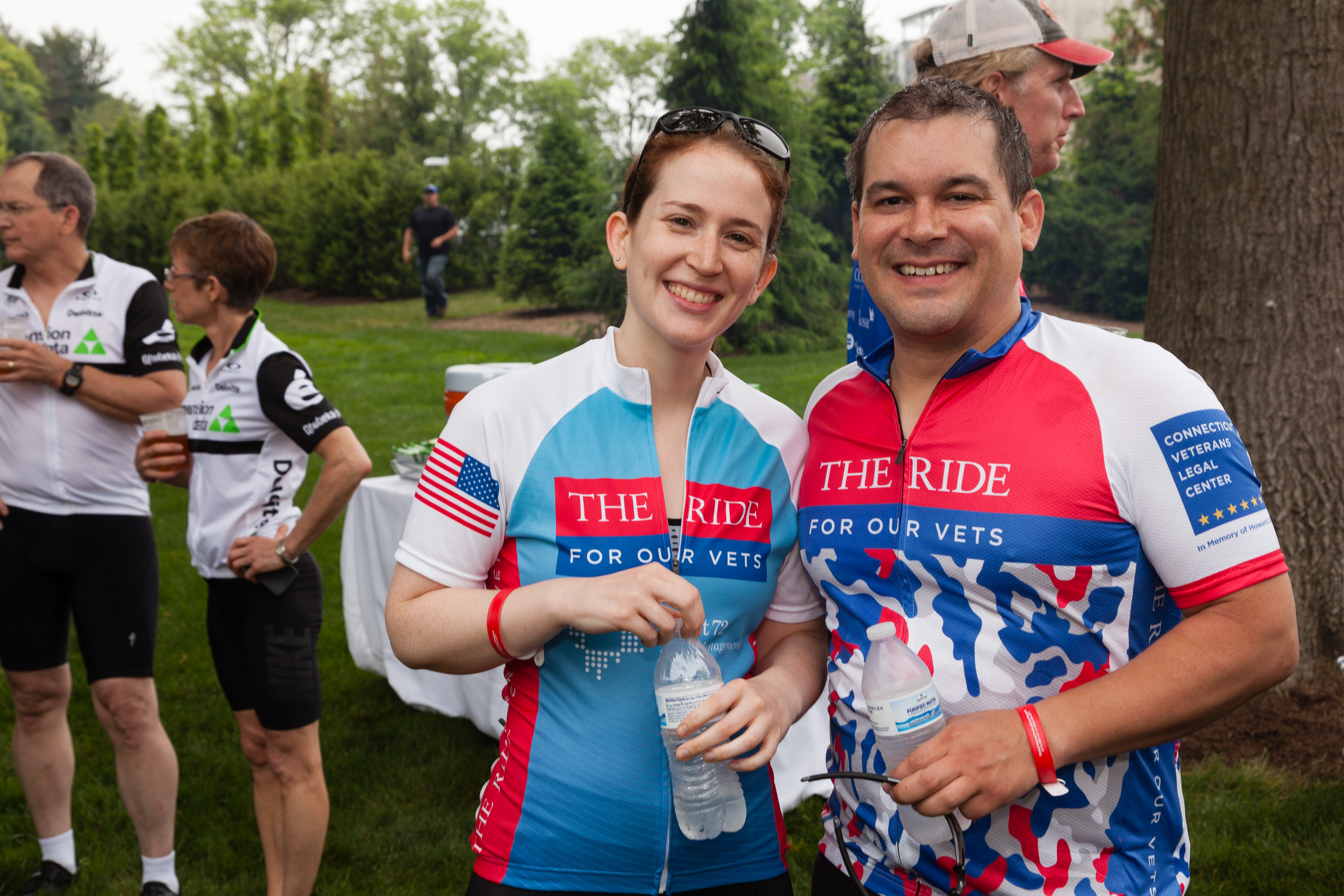 How much of the money will go to the Connecticut Veterans Legal Center?
The Connecticut Veterans Legal Center is a 501(c)3 organization, making all donations received tax-deductible. We work very hard to keep production expenses as low as possible by soliciting sponsorships, donations and discounts for supplies. We are grateful to our sponsors who have helped offset these costs. Ultimately, the amount of money, and the percent return, depends upon how many people ride and how much each rider raises.
Is there an age minimum to participate?
Yes. You must meet these minimum ages:
100-mile route: 16+ years old
62-mile route: 16+ years old
50-mile route: 14+ years old
25-mile route: 12+ years old
5K Family Friendly Walk: All ages welcome!
All participants under 18 years old must ride with a parent or guardian; no more than two minors per adult.
What are the check-in and start times for each route?
The check-in and start times are as follows:
100-mile route: Check-in begins at 6:00 AM, Ride begins at 7:00 AM
62-mile route: Check-in begins at 7:30 AM, Ride begins at 8:30 AM
50-mile route: Check-in begins at 7:30 AM, Ride begins at 8:30 AM
25-mile route: Check-in begins at 9:00 AM, Ride begins at 10:00 AM
5K walk: Check-in begins at 9:00 AM, Walk begins at 10:00 AM
What is the fundraising requirement?
Each rider must raise at least $200 to participate. This is in addition to the registration fee. Children 12 years old and under have a $50 fundraising minimum and a complimentary registration fee. If you are registering a child 12 years old and under, please contact Emilie to register.
Are anonymous donations made to a personal fundraising page truly anonymous?
Anonymous donations are only anonymous on the public event website. The participant who you made the donation to will still receive an email indicating who made the donation. If you have any questions or concerns about the anonymity of donating, please reach out to Emilie.
I'm traveling from out of town. Where can I stay?
For the first time this year, The RIDE For Our Vets has secured a discounted rate ($109 per night) at the Hilton Stamford for our event participants! Here are the different ways to secure the discounted room rate:
Call 1-800-774-1500 and tell them you are trying to book a room under the group "Global Impact Productions- The RIDE For Our Vets.
OR
Visit the Hilton Stamford Hotel website and enter the code "GIP" in the group code box.
Questions? Reach out to Tyler Timken via email or at 212-989-1111 ext. 105 for more information.

Are dogs allowed at The RIDE For Our Vets?
As much as we love our four-legged friends, unfortunately dogs are not permitted at The RIDE.
Is there a way to rent a bike for The RIDE?
Yes! The RIDE For Our Vets has partnered with Danny's Cycles to provide bike rentals.To rent a bike, click here and complete the reservation form. Bike rentals are $80 and include a helmet. All rentals will be available for pick up at Point72 the morning of the ride. Make sure you arrive early to allow plenty of time to check in and pick up your rental!